Hello, thank you for visiting us. What kind of washi paper do you have in your mind? Get various beautiful colors from Shiori, dyed-washi paper store!
[International shipping] Available. As the global health situation changes every day, we would like you to check current delivery of mail items from Japan to your country and region; please visit Japanpost News on International Mail and EMS page (English). Thank you.
[Note] We have shipped some parcels addressed to countries outside Japan since April 2020. They arrived safely but it took 2 to 3 months to arrive (usually it takes 1 to 3 weeks by Japanpost).
Our products: Hand-dyed washi paper
Thick washi paper "Itajime" (2 pictures below) are folded into 3 ; its real size is 3 times bigger than it looks on the pictures.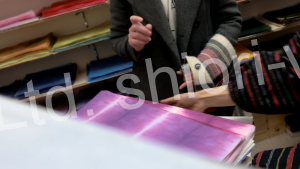 Ultra thin, translucent washi paper (1st picture below) are folded into 4 to make their subtle colors recognizable; the real size is 4 times bigger than it looks on the picture.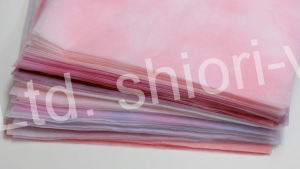 In the 2nd picture below, a customer holds the folded ultra thin translucent washi paper. The washi paper on the board is its original size and you can see the white color of the board through ultra thin translucent paper.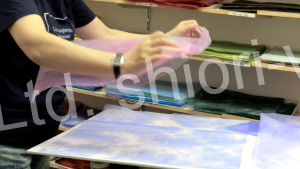 We also have other types of washi paper and ship to all over the world. If you tell us what you have looking for, we are happy to help you.
About Us
Our Top 3 Features
Specialized in various kinds of hand-dyed washi papers since 1977
Ship worldwide (Ship from Ikebukuro, Tokyo)
Read/Write/Speak fluent English (Feel free to email us in English)
Washi products
We have variety of washi papers such as Itajime, Tengu, Unryu, Rakusui, etc. Because you might call the same washi paper in different name or not sure about the name of the paper, we always make sure to talk about the exact features of washi types you look for.
Hand-dyed washi paper are mainly used for chigirie/washi collage, kirie, oshibanae/pressed-flower art, etc.
International shipping
Shipping outside Japan? We have been shipping to countries worldwide over 30 years!
Order Products
Tell us the type or features of washi you look for via our Question form. We will help you make shopping experience with us as enjoyable and problem-free as possible.

Select products type and colors from our washi e-calatogue

Order by email. Make sure to write item codes and quantity along with your invoice address and shipping address
We ship a purchase over 3,300 JPY (Shipping and handling fee will be added)
Payment method
We will email you an invoice when we finish manufacturing your order
We accept payment via PayPal (If you don't have a PayPal account "PAY WITH A CREDIT OR DEBIT CARD" OPTION is available)
Shipping & Returns
We offer 2 shipping options:

Fast expensive shipping

Fast-enough fairly-reasonable shipping

The recipient is responsible for all customs fees, including duty and taxes and additional border fees.

We manufacture our customized washi-colors for you, so we do not accept exchanges or returns unless the product has a manufacturing defect.
Do we ship to your country?
Click below and select the area name of shipping destination.
Tell us what type of washi you need. For example, thickness/thinness, colors and features.
Skip "Retail store" and read "Why Us" section
Retail store (Ikebukuro, Tokyo)
Business hours & Payment method
Open: Tuesdays, Wednesdays, Thursdays, Fridays 

11 a.m.

to 5 p.m.

[Important] Our retail store will be temporary closed from August 22 – 31, 2020 due to the spread of Covid-19. However we operate shipping service as usual. 

Closed: Mondays, Saturdays, Sundays, National Holidays

Accept cash-only (JPY)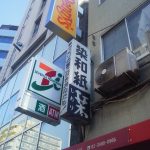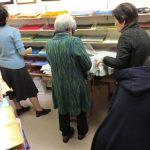 How to get here (Rail and walking, 2nd floor of the building)
Take a train to Ikebukuro station (In Tokyo Prefecture)

Go to East Exit at Ikebukuro station and our store is in 3 min. walking distance  (Ikefukurou "owl" statue is a famous landmark around Ikebukuro East Exit)
Find a building next to Centurion Hotel, go up to

the 2nd floor

of the building by stairs
How to get to Ikebkuro station from Tokyo station
JR Yamanote line

takes 24 min.

Tokyo Metro Marunouchi line

takes 17 min. Any other Tokyo Metro lines take longer.
Address
Shiori Ltd. — washi paper shop
1-8-8, Higashi-ikebukuro
Toshima-ku, Tokyo
170-0013  Japan
Email: Send an email from our question form below
Phone/Fax: +81-3-3988-0966 (03-3988-0966)
Why Us
Here is a message from one of our long-time customers.
The paper arrived. It is, as always, gorgeous. So grateful to have you in my artistic life!
I would be honored to tell your clients in other countries about my experience with your shop, and about the quality of your papers.
How did I find you? I used to buy small packages of itajimeshi paper from a local store, which no longer imported it. Desperate to get more, I asked a Japanese friend to translate the label so I could look online for the paper, and when I searched, your shop came up.
I sent a message, and you responded quickly. You did the sweetest thing for me by creating a special page of paper you thought I could use. I logged onto it, laughed out loud when I saw a picture of myself that you found online, and then started shopping. It was like heaven for me.
The son of one of my art students offered to pick up the order when he was in Tokyo on business for Microsoft. I will always remember getting that precious package, and waiting until I could get home to open it. I sat with the paper spread around me and nearly cried. It was so beautiful!
As always,  I am SO grateful to be able to order from you. Excited for paper, and very grateful to you for keeping me creative!
— Along with the New Year's Greeting in 2015. Ordering over 10 years from USA.
Well, how can we help you?
We are more than happy to support you obtain the type of washi paper you have been looking for. Click below and send your question to us NOW!